from naked facades to blind ones…
in this post we want to show other ways of working with architecture and, why not, other ways of living.
we put in question concepts such as intimacy, the relationship with the environment, views, ventilation and daylight access.
projects like the ones we are about to show leave us in a different position as facade consultants, since the openings are the main frame from where the rest of the building is composed.
this does not mean that everything but openings is secondary, but rather that the starting point is different.
therefore, its configuration has to help in finding comfort for the users.
blind facades are rare or not common at all, both in public buildings and in private homes.
not only do they require a lot of customization, in terms of industrial mechanisms and processes, but also a commitment to break down the cultural barriers to which we are all used.
here are some architectural demonstrations.
from horizontal to vertical.
a good example is found at the "sh" house in tokyo, designed by hiroshi nakamura.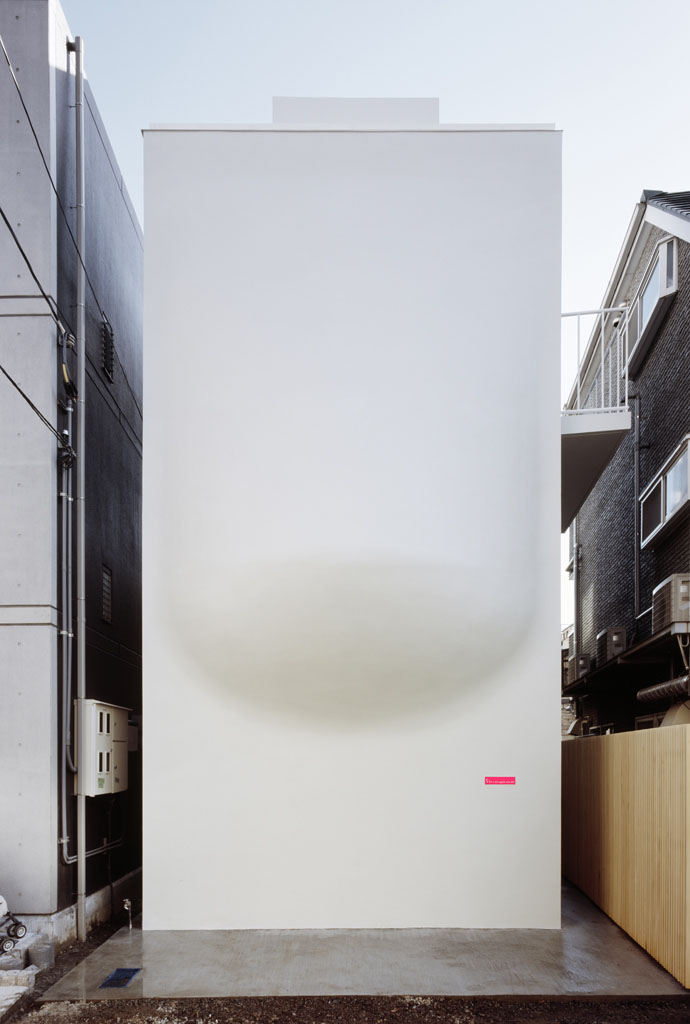 the skylight is the main element that, together with the distribution and selected materials, facilitates daylight distribution as a cascade.
undoubtedly, the singular organic shape integrated into the facade provides a different distribution of luminance levels, especially when light hits the surface of the created bench.
as a result, a certain contrast is achieved in the material, adding shadows to a space whose lighting will generally appear homogeneous.
we are not sure how the shape contributes to a good daylight distribution.
nevertheless, on a perceptual level, there is no doubt that this solution is much more interesting than a proposal for a skylight in a totally vertical wall.
as with transparent facades, this type of projects requires a real commitment to indoor distribution, analyzing where light is required and why.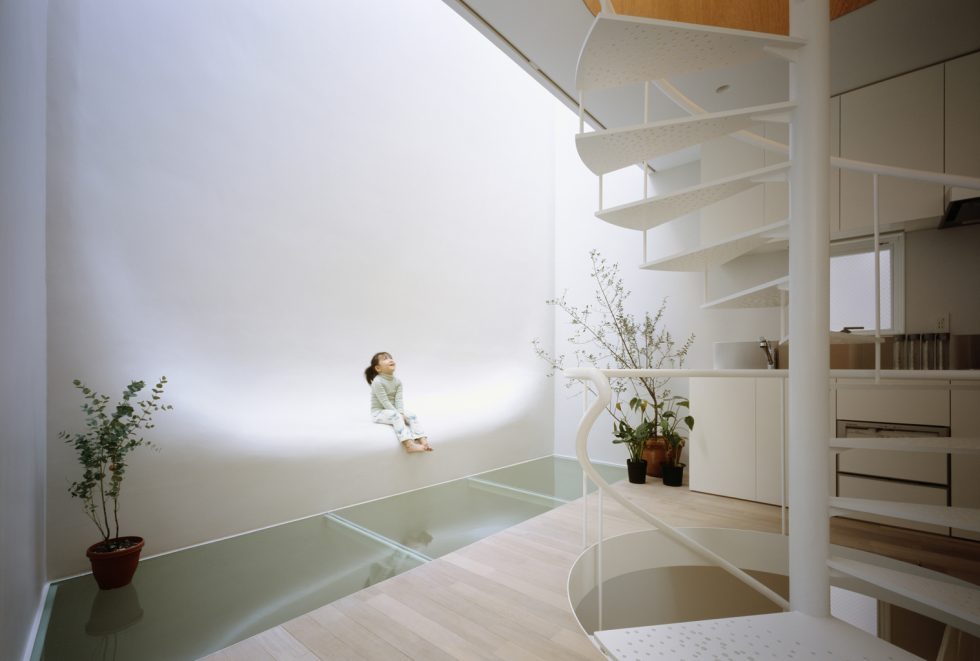 the house establishes new relationships between user-facade and user-outdoors.
its inhabitants can go beyond the vertical axis that distinguishes privacy from public space.
they can also be absorved by the structure.
in this particular case, the architect's personality is reflected in the creation of a kind of mother's womb.
consequently, the facade means protection.
it is not the first time that nakamura stands out for risky proposals or, at least, for schematic breaker projects.
in the «optical glass house» we find a set of elements.
there is a transparent façade that palys the role of a blind one.
its transparency is conditioned by the incorporation of natural elements that block the view from the outside and provide privacy.
however, the optical glass material allows to broaden the relationship with its surroundings, as well as to achieve interesting lighting effects in order to delight users.
an excellent example of how to add value to the building through sunlight incidence and daylight.
another very different housing case is the one proposed by the portuguese architecture firm aires mateus.
"casa leiria" divides volumes into two levels, two buried patios and a flat geometry, acting as an idea of a primary house.
likewise, the house concept is reduced to its maximums.
it proposes extreme simplicity, something that demonstrates the complexity behind.
extruded incisions are the main daylight entry.
everything that is below the plan level becomes an emitting source; what is above, could be interpreted as less important.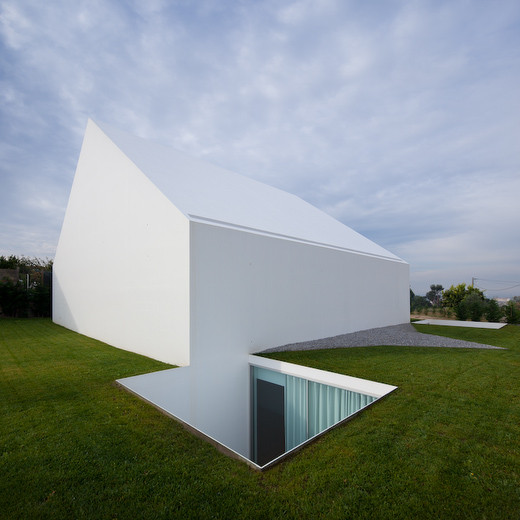 consequently, two main materials are distinguished: glass and white coating.
white colour not only helps to minimize any hint of ornamentation, but also contributes to the reflection of natural light.
form, environment and materials are treated at the same time.
as with the "sh" house in tokyo, users establish a more direct relationship with the sky than with their surroundings.
in this house, users enjoy total privacy.
however, views only depend on one's location position in relation to the two levels.
another possible approach to what we understand as "views to the garden".
aires mateus studio is also known for working on projects that put in question privacy, daylight access and the relation with the environment.
in the following case, less risky, we shift to semi-blind and transversal circulation.
"quiet house" is located in hérault, france, and was created by artelabo studio.
it is characterized by the insertion of two interior courtyards, which divide the house into opaque or semi-open modules.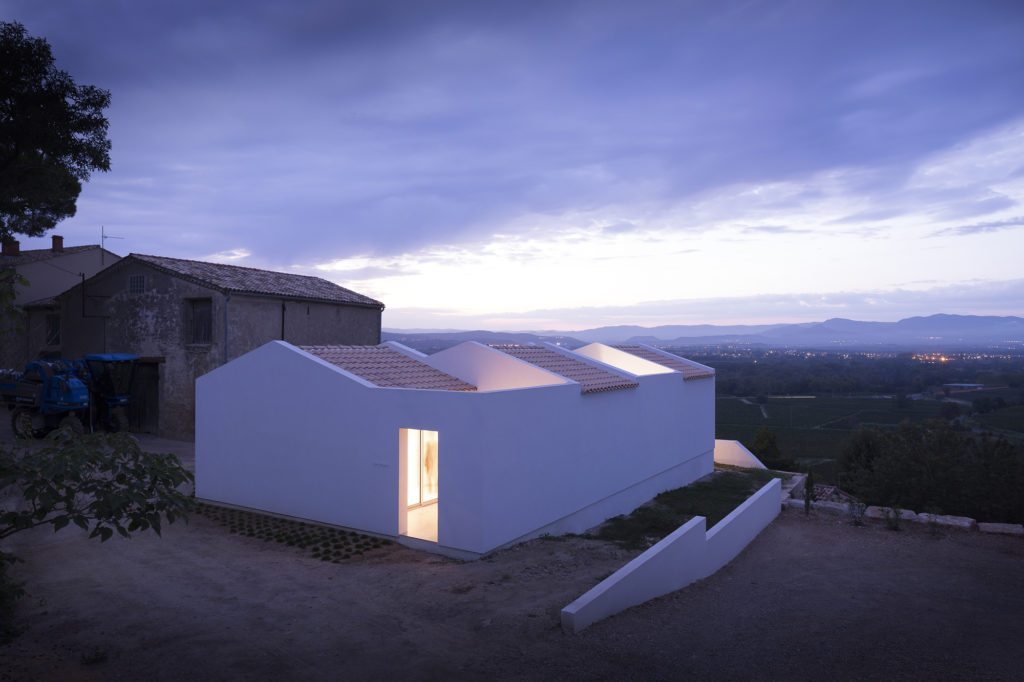 although privacy is maintained from neighbors, an opening with views to the rural environment is not renounced.
something that fits conventional lighting distribution.
in conclusion, blind facades can help to solve certain housing aspects.
they can even provide a certain characterization in public places.
as a common resource, vertical openings are replaced by skylights, something that requires some attention in terms of insulation, access to mechanical ventilation and protection from outdoors.
regarding lighting, this type of mechanism tends to offer a more homogeneous and extended distribution in the room.
a blind facade isolates the user from the environment, but it also offers a new relation with light sources.
that said, it is important to consider the location of the building, the orientation and its general climate.
by doing so, we will know if different lighting effects, those that break with the homogeneity early mentioned, can be offered.
white finishes are also essential when proposing new ways to project light.
in the examples shown it should be pointed that a facade helps to convey a message of simplicity.
as with transparent secondary skins, a blind facade can never ignore the user and the indoor layout.
for the less convinced, there are always intermediate solutions.
facades can contribute to new ways of living.